I am up watching Out of Time and do a quick google of the 2003 suspense drama. It underperformed at the Box Office coming it at $40 million (domestic) on a$50 million budgeted movie with a worldwide total of about $55 million. Not a flop but Denzel is a top box office draw. Why such low numbers?
Then I considered the cast; Dean Cain, Sanaa Lathan, Eve Mendes – not the most well-known cast of characters at the time. Thinking deeper, I began to wonder about Eva and Sanaa and then leading ladies opposite Washington in general.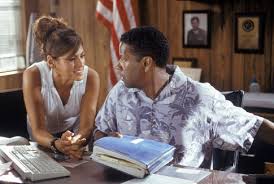 Not since his turn as obsessed trumpeter Bleek Gilliam has Denzel been cast with a sister as his love interest. I know he has played other non-sexy roles in which he may have an African American wife but an AA women at the receiving end of a love scene is what I am speaking of. There was Sheryl Lee Ralph in The Might Quinn but that was 1989.
I began to wonder if this lack of AA as love interest is coincidental or more deliberate. Is it a conscious decision of Washington's not to be the sex symbol in every movie? Or is it like what Will Smith said about Hitch (2005)?
Eva Mendes was given the role opposite Smith because the movie makers were worried about the public's reaction if the part was given to a white or an African American actress, according to Smith. The actor is saying that it was feared that a black couple would have put off worldwide audiences whereas a white/African American combo would have offended viewers in the U.S.

"There's sort of an accepted myth that if you have two black actors, a male and a female, in the lead of a romantic comedy, that people around the world don't want to see it," Smith told the British paper, the Birmingham Post while promoting the flick overseas. "We spend $50-something million making this movie and the studio would think that was tough on their investment. So the idea of a black actor and a white actress comes up — that'll work around the world, but it's a problem in the U.S." SOURCE
Exactly what is that all about? Halle Berry is a big box office draw. Why has she never played opposite Denzel? Personally, I would love to see Nia Long get her just due as leading lady. That would be a movie I would pay to see.
Am I trippin'? What are your thoughts?